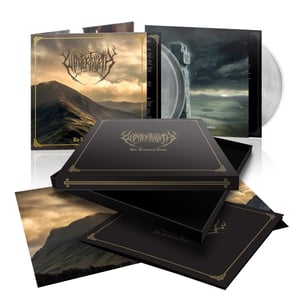 £

45.00
The Brand New Winterfyllth album "The Reckoning Dawn".
Limited Edition of 500 - 3LP Boxed set version on Ultra Clear Vinyl. Features 8 new tracks on 2 x LP set, a Bonus 12" LP featuring 3 new songs (With exclusive cover artwork), an extended Booklet & Poster in a deluxe Gold/Black Box.
First 50 copies come with a limited edition Winterfylleth Logo, Record Player Slipmat.
Releases on May 8th 2020
Tracklist: -
2 LP
1. Misdeeds of Faith
2. A Hostile Fate (The Wayfarer Pt. 4)
3. Absolved In Fire
4. The Reckoning Dawn
5. A Greatness Undone
6. Betwixt Two Crowns
7. Yielding The March Law
8. In Darkness Begotten
12" Bonus EP
1. Upon Gallows Frail
2. Woden (Enslaved Cover)
3. In Darkness Beholden